What is Voices?
Voices is a service that ranks the most valuable content shared by a curated list of Twitter accounts. With Voices, you see top trending stories from people you trust-rather than a feed of recent tweets. Use it to connect to and view tweets from key thought leaders. You can view IBM's own feed of IBMers and brands, or contact us to create your own feed.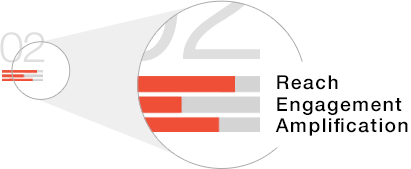 REA Score
The score of each content item is represented by these horizontal bars. IBM measures the performance of its social content by the metrics of Reach, Engagement and Amplification.
Reach
The number of times an update, post, or tweet has been seen by the followers, subscribers, or fans of its creator.
Engagement
The intentional user interactions with an update, post, or tweet.
Amplification
The spread of an update, post or tweet due to re-sharing by followers, the friends of followers, and so on.