Insights from SXSW: Social Media in the Underground World of B2B
Insights from SXSW: Social Media in the Underground World of B2B
by Susan Emerick
Program Manager, Social Business
I just returned from SXSW Interactive. It was my first experience attending this event and I was thrilled be a part of it.
If you've heard from others that it has to be experienced to be understood, it's true! I've never seen anything like it. There was an incredible vibe from the massive amount of high energy innovators who are all on a quest to lead the future of digital and social innovation. Representation ran the gamut from small start-ups to well established global brands leading the way and shaping this exciting period of our history.
I had the privilege to represent IBM Social Business leadership by participating in a panel: Social Media in the Underground World of B2B #SMB2B in which we discussed many of the pressing issues of implementing social media programs and leveraging social media as a competitive advantage from a leading B2B brand perspective.
Melissa Chanslor from Text 100 Moderated the panel. Participating along with me were marketing leaders Duane Schulz - Xerox, Jeanette Gibson - Cisco and Shanee Ben-Zur - NVIDIA.
Here's a summary of key points I shared based on our IBM Social Business leadership initiatives:
Understand: Conduct social listening research to better understand how and where your constituencies are participating in social. Apply the insight gathered from the research to your marketing planning process and tactical execution roadmap.
Build relationships: Deploy subject matter experts (SMEs) to build relationships with key influencers and those that follow them based on your understanding of the social ecosystem. This approach will position limited, high value resources strategically to drive business outcomes.
Enable: SMEs to build their personal - as well as your brand's - reputation by implementing employee enablement programs. These programs should provide support to these high value thought leaders, helping them engage in the right place, at the right time, in a secure way. Set clear priorities for engagement.
Show examples: Help SMEs understand the many benefits of committing to sustaining engagement by sharing examples of other leaders like them who've successfully established a position of authority as a trusted, topical thought leader.
You can listen to the panel on the podcast on demand to hear the honest dialogue and many great recommendations shared amongst the team. Thanks to Constantin Basturea you can also read a summary of the Twitter steam on Storify.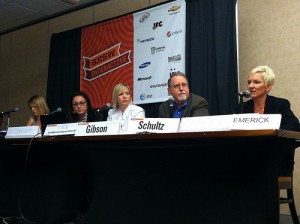 Photo courtesy of Text 100

Left to right: Melissa Chanslor, Shanee Ben-Zur, Jeanette Gibson, Duane Schultz and Susan Emerick