Gamification boosts engagement, amplification and fun quotient at IBM Connect
The thrill of victory
It was 6:30 pm on Sunday, January 26th in Orlando, Florida, and Ray Bilyk was nervous. I watched him as he paced up and down the Social Cafe, glancing up at the leaderboard and muttering to himself.
"One more hour, Ray," I said to him. "I think you might have it."
He shook his head. "Anything can happen. If Mitch or Chris Miller pull out the stops they can knock me out in a heartbeat."
I was cradling a GoPro in my hand. In one hour it would go to the daily winner of the #IBMConnect Game. From watching the boards for the last few days and analyzing patterns, I knew he was likely going to hold on. But Ray didn't think so.
Around us, there was Lego mayhem. Warren Elsmore, a former IBM Champion was holding court in his new profession as a Lego expert. Four teams at a time were vying for the tallest building they could construct in five minutes. With Veronica Belmont providing colorful commentary, it was hard to tell that this was the Social Cafe kickoff event for serious business.
Game highlights
Having a game element to the conference was clearly going to make it more fun. However the core reason for employing game dynamics in a work construct is to increase productivity and/or to motivate certain behaviors. Here's what our analysis revealed:
The amplification level of conference content was up 66 percent YTY. Contest participants earned more than 20 percent of the retweets for the conference this year. So while there were multiple factors to the dramatic YTY success, the game was a significant contributor.

Contest participants had a 1:10 ratio of pictures posted to likes on Instagram – significantly boosting the engagement quotient of conference content.

Roughly two percent of the attendees emerged as top performers by successfully completing the highest levels of achievements in the missions and goals map.
We weighted results (getting a tweet retweeted, getting a picture liked) more than the actions (tweeting and posting pictures). In addition, we capped points for activities. For example users only got points for their first 30 tweets in a day, whereas there was no cap on points earned for the retweets they received. Therefore, people who wanted to get on the top 100 leaderboard focused on creating quality tweets.
Some additional facts and observations
BunchBall served as the gamification engine for this initiative

Between social activities and on-the-ground challenges there were more than 15,000 actions completed.

The most popular social medium wasTwitter.

While we had good interaction on Instagram, we did have people commenting that their accounts were private. They didn't want to associate it with their conference account.

We purposely did not include Facebook activity as part of the social aspect of the game because we suspected we'd have very few signups.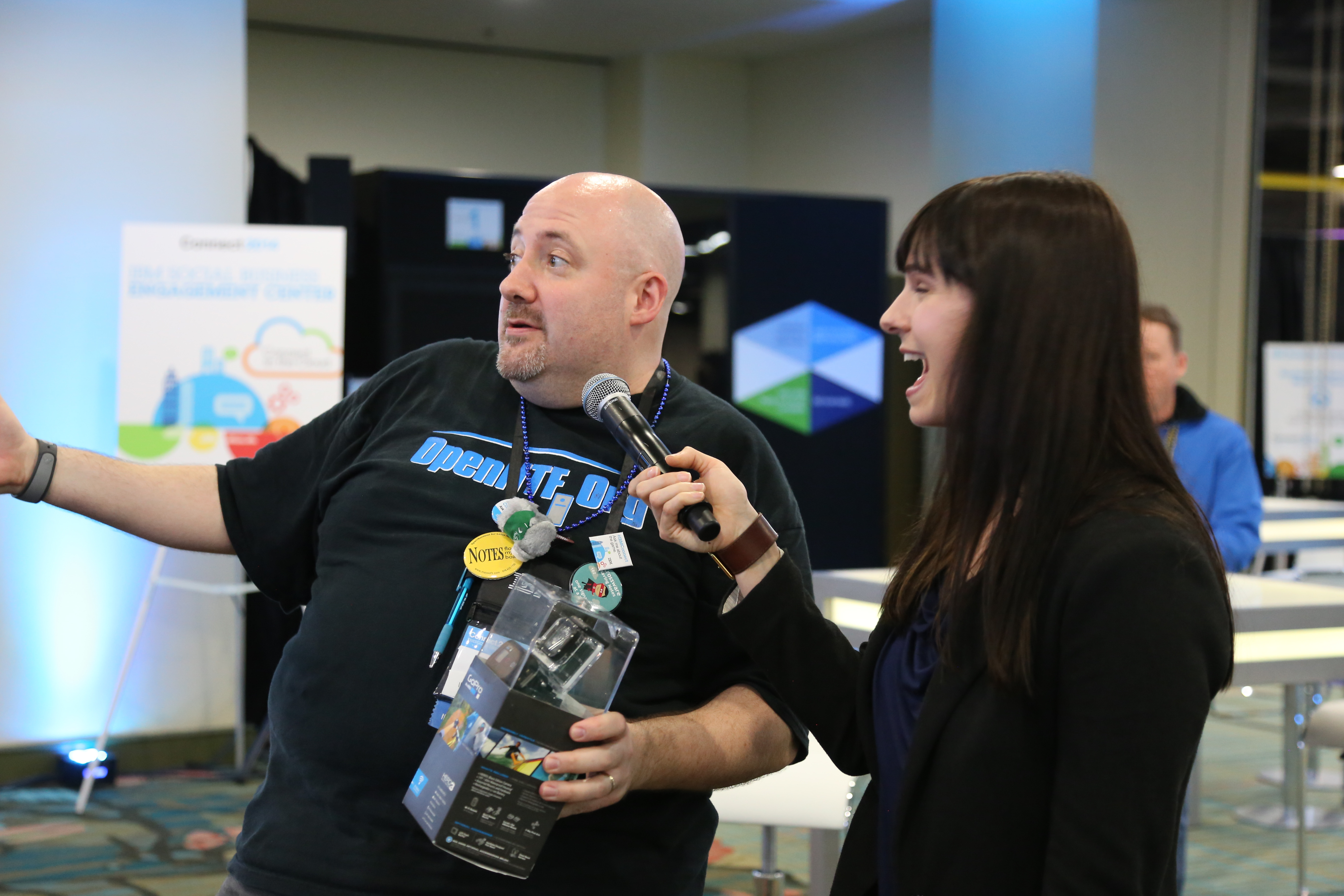 Did @raybilyk win the day 1 challenge? Spoiler alert. He did. Here he is accepting his prize from Veronica Belmont. Please go congratulate him on Twitter. Tell him @brenny sent you.
How did the game influence overall dynamics at the game? What other themes emerged from gamifying a conference? Stay tuned for my next blog post to find out.
In the meantime, please tell us your experiences with gamification. We are always striving to improve and are listening.